Introduction to Graphic Facilitation 2.5 Day Workshop
May 16-18, 2012 | Potomac, MD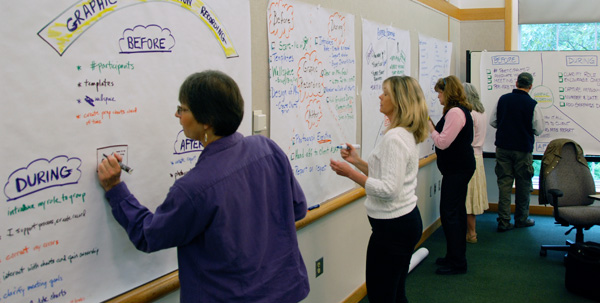 WHY TAKE THIS WORKHOP?
As a result of participating in this course you will be able to:
Get the most out of your meetings
Increase participant engagement
Organize complex concepts
Increase cross-generational communication and understanding
Establish a foundation for leading strategic visioning sessions through the use of simple graphic frameworks
People frequently ask if you need to have training as an artist to learn to be a graphic facilitator. The answer is no! The only prerequisites are a sense of curiosity, a willingness to try new things and a strong interest in helping groups to become more creative, efficient and effective.
OUR APPROACH TO TEACHING GRAPHIC FACILITATION
Simple techniques for transforming group process
Engaging, visual alternatives to PowerPoint
Routines you can practice right away to reinforce what you've learned and put you on a path towards proficiency
Hands-on opportunities to work individually, in pairs and with small groups to support a variety of learning styles
Case studies from public and private sector projects
Templates (pre-drawn visual frameworks) to support group process
Opportunities to apply what you're learning to a current project or initiative
Tricks-of-the-trade to instantly improve your flip charting skills
Strategies for engaging participants and moving discussions forward
Supportive, individualized coaching and feedback

WHAT'S INCLUDED?
2.5 days of highly interactive training with two trainers
Evening practice time in a fun and informational setting on May 16
An informal networking experience the evening of May 17
Breakfast, snacks, lunch and dinner
A full kit of supplies to get you started including workshop manual, large rolls of paper, markers, chalk pastels, artists tape, paper cutter, large PostIt® Notes, leather journal and more!
Access to on-line resources following the workshop
WORKSHOP SCHEDULE
May 16, 2012
8:30 AM - 9:00 AM - Continental Breakfast and registration
9:00 AM - 5:30 PM - Workshop
7:30 PM - 9:30 PM - Practice session

May 17, 2012
7:30 AM - 8:30 AM - Continental Breakfast
8:30 AM - 5:00 PM - Workshop
7:30 PM - 9:00 PM - Networking

May 18, 2012
7:30 AM - 8:30 AM - Continental Breakfast
8:30 AM - 12:00 PM - Workshop
12:00 PM - 1:00 PM - Lunch
WORKSHOP LEADERS
Deirdre Crowley is the founder of Crowley & Co., a DC-based consultancy specializing in making the complex simple and supporting big picture thinking and problem solving through the use of facilitated, interactive discussions, graphic recording and visual tools.
Prior to founding Crowley & Co. in 2004, Ms. Crowley was a senior consultant for The Grove Consultants International in San Francisco, California. Together with the Grove Consultants International, Ms. Crowley has been at the forefront of the visual practitioner movement in establishing the use of communication design techniques for complex problem solving.

Ms. Crowley's clients include Microsoft, Mars Incorporated, the Lance Armstrong Foundation, Deloitte, the Department of Homeland Security, the President's Cancer Panel and the United States Pentagon Joint Chiefs of Staff.
Phil Kiracofe is the founder of Gooseworks Consulting, an experiential learning company specializing in personal, team and organizational development. He brings a unique academic background of psychology, sociology, and kinesiology to his passion for experiential learning and group dynamics.
Mr. Kiracofe believes strongly in an interactive and multi-faceted approach to learning and often utilizes graphic facilitation techniques to complement presentation-based and experiential education.
He has designed and facilitated programs for hundreds of companies, schools, and organizations to strengthen teams, improve effectiveness, and develop more productive work environments.
EVENT LOCATION
Registration with a two-night hotel stay includes check-in on May 16 after 3:00 PM and check-out on May 18 at noon at the Bolger Center.
The Bolger Center is located fifteen miles from Washington, DC and is close to Reagan National, Dulles International and BWI Airports. Bolger has free wireless access, fabulous fitness facilities, indoor swimming pool, and newly renovated rooms.
Visit the Bolger Center Website »
REGISTRATION (space is limited)
Commuter Rate = $1995.00 (includes continental breakfast, snacks, lunch and all materials. *Does not include hotel stay)

Residential Rate = $1795.00 (includes two room nights, all meals and materials)

We want to encourage you to set this time aside for your creativity, practice and learning so we're going to reward you with a lower rate for those who are willing to stay overnight at Bolger. We are so convinced of the difference it makes in regards to the integration of the tools and practices that we're knocking two hundred dollars off of our standard rate. It is an AMAZING deal!
To register, please visit our registration page - click here.
Payment can be made by check or credit card through PayPal. For credit card payments a 3.5% administration fee will be added.
QUESTIONS?
Please call Crowley & Co. at (724) 225-8668 or email lpost@crowleyandco.us if there is any additional information or support in registering that we can provide.